Naval Cathedral
At the end of the 19 century it was decided to build Naval Cathedral on Anchors square to memorize sailors perished at the Russian fleet. The architect V. Kosyakov was in charge of the design. One of his designs was approved by Nikolay II in spring 1901.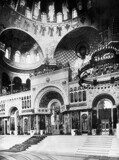 Ceremonial laying of the walls took place on the 8th of March 1903 with the imperor Nikolay II and members of the imperial family presence. On the whole costruction of the catherdral was quite fast. Interior finish was commenced already in 1907. The cathedral was illuminated by 5 thousand lights.

Naval Cathedral was ceremonially consecrated in the name of Saint Nicholas the Wonderworker on the 10th of June 1913. The cathedral reminds a plan of Hagia Sophia temple in Constantinople but with some proportion changes. The length of the building is 83,2m, the width is 64m, the height with the cross is 70,6m, the dome diameter is 26,7m.
Interior decor was made in the Byzantian style and was connected with marine theme - picture of ship parts, fish, sea monsters. The floor is mosaiced of small colorful marble with the images of vessels, sea stars, crabs, seaweeds, outlandish fish. 130 memorial tablets of black marble with the names of perished sailors and 20 tablets of white marble with the names of perished ship priests were fixed on the inner walls of the gallery.
Cinema named after Maksim Gorkiy was opened in the Sea Cathedral building at the beginning of 1930 and part of rooms were used as storage. The crosses were taken down from the domes, the bells were thrown down, the altar was demounted. Art painting of domes and walls inside was covered with paint. To protect the cathedral from complete destruction the Navy authority asked the government to hand it to its responsibility.
The building itself was reconstructed in 1950: hung ceiling and inner walls for spectators hall for 2500 seats were constructed for Naval Club. This unique building was taken under the government protection as an architectural monument in 1975. Sailors Club was established hier from 1978 to 1989.
Naval Cathedral was consecrated and the central cross was fixed again on the main dome.
19 april 2012 - the Patriarh Kill leaded the consecration of the minororders ceremony.
May 2013 - the opening of the cathedral was conducted after its completed restoration to its 100th anniversary from the consecration day.
The Naval cathedral is opened every day exept Monday and Tuesday 11.00 am - 6.00 pm.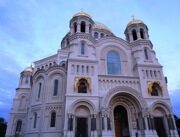 Photo Gallery